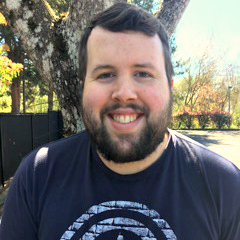 Chris was previously an advocate on PlaquePsoriasis.com.
Chris Pettit has had "skin issues" his whole life but was formally diagnosed with plaque and guttate psoriasis when he was a young teenager. Through various stressful events in his adolescence, his psoriasis worsened, eventually covering 85% of his body. Throughout the remainder of his teen years and all the way through his 20s, he left his condition untreated due to multiple failed attempts at treatments.
He endured many years of being ostracized, discriminated against, and embarrassed. Then, the year he turned 30, his wife started working for National Psoriasis Foundation. He learned new information about psoriasis he had never heard before. For the first time, he took control of his disease and got proper treatment. These series of events ignited a passion for awareness within him. Along with his wife, he created Psoriatic Pstandup, a YouTube channel with the motto "Psoriasis is a serious disease, but that doesn't mean we have to take ourselves too seriously." He hopes to reach others by talking about the everyday realities of this disease while enjoying a laugh together. 
Chris is also a part of the Portland, Oregon division for the National Psoriasis Foundation and has spoken for multiple events in his community. In his spare time, he likes to spend time with his wife and three sons outdoors, enjoying the Portland food scene, and taking day road trips to random new places. 
Click here to read all of Chris' articles on plaquepsoriasis.com.