Getting to Know Series: CathyD
Last updated: November 2016
By now you've probably had the chance to interact with one of our moderators, CathyD. This month, I had the pleasure of chatting with CathyD about her work and managed to get her to answer a few silly questions.
What's your favorite part about moderating for PlaquePsoriasis? What do you like the least about being a moderator?
My favorite part about moderating for PlaquePsoriasis.com has to be being part of such a supportive community. It never ceases to amaze me how caring everyone is, despite the challenges they are facing themselves every day. Of course, reading about people's struggles is hard but I see a great strength in everyone I interact with.
Do you have any pets?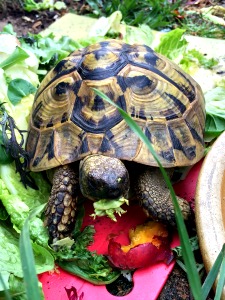 We have a few family pets – four guinea pigs, three tortoises (one of which is over 90 years old), and a budgie called Harry - named by my sister after Harry Potter, of course!
If you could teleport to anywhere in the world, with no worries about money, where would you go first?
I think I would choose to visit Japan. I would love to experience the culture, see the buildings and artwork, and eat all of the food ! I am a big video games fan and have a soft spot for Nintendo (who are based in Japan), so I would love to visit for that reason too. I would be spoilt for choice with video game merchandise!
Name a song, band, or movie that you are ashamed to admit you absolutely love. 
This might be slightly cheating as I am in no way ashamed of this – I love Right Said Fred. Their album "Up" is a fairly regular soundtrack to my car journeys. Yes, they are the guys who sang "I'm Too Sexy."
Okay, maybe I did cringe a little at that. Although to be fair that isn't my favorite song – check out "Deeply Dippy"!
Be sure to check out CathyD's profile and add her as a friend. Stay tuned for next month's Featured Member!

Community Poll
How do you feel about your psoriasis in the emerging spring time? (Select all that apply)