Interview With Jasmine Preko, Psoriasis Advocate
When it comes to your health, you can be one of your best advocates. But when you're in pain and coping with the emotional toll of psoriasis, it isn't always easy to advocate for your own needs.
We had the opportunity to interview psoriasis advocate and influencer, Jasmine Presko. We asked for her perspective and words of wisdom when it comes to living with psoriasis.
Meet Jasmine Preko
We asked Jasmine about her journey, her inspirations, and how her life has changed since getting diagnosed with psoriasis. She opens up about how psoriasis has negatively impacted her confidence and how she has worked to overcome that negativity. Read on to see what she shared with us.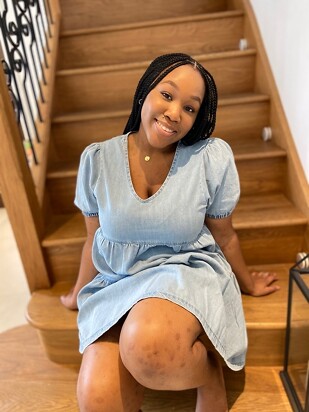 What inspired you to document your journey living with psoriasis?
I decided to document my journey with psoriasis to help others who may be struggling behind the scenes.
Skin conditions are not spoken about enough and there isn't enough representation. In the past, people with psoriasis and other conditions have been made to feel ugly or unworthy. We are encouraged to hide away and conceal our flaws when really, we should be flaunting, embracing, and loving them. I want to contribute to the psoriasis community and help remove the stigma that has been created around skin conditions.
Have you always been this confident posting about your psoriasis skin?
No, definitely not. Another reason why I decided to document my journey on social media was to help me with acceptance. I've had psoriasis since I was very little and it has always impacted me physically, emotionally, and mentally, to the point where I started to hate and bully myself.
I used to wear clothes that covered my skin and would never post anything that showcased my condition. Now, I have started posting pictures of myself that show my skin, and this has helped increase my confidence massively. The positive responses and the messages I receive from the people I have helped or inspired have really aided me in my journey to acceptance and have made me want to love and value myself more and more every day.
Even though I still get feelings of anxiety and self-consciousness before posting a picture. I have to remember to give myself credit and acknowledge how far I have come and appreciated the confidence I have gained.
Do you have any advice for someone who is newly diagnosed with psoriasis?
I would simply say be kind to yourself. Your skin does not define you, so don't worry about what it looks like on the surface. Instead, remember who you are on the inside, and focus on your heart and how you treat others because that is all that matters.
What is something most people do not know about you?
One thing people may not know about me is that I am extremely goofy!
Thank you to Jasmine for making the time to talk to us! We're so grateful for her perspective and insight into managing life with psoriasis!
The importance of psoriasis advocacy and story telling
Advocacy and awareness are so important. It eliminates stigma and provides even more context to this complicated and painful condition. Finding the platform to share about your psoriasis experience isn't always easy. Fear of judgment and isolation are not uncommon feelings.
Making the decision to share can allow those with psoriasis to control the narrative, to take back their thoughts and feelings that come with living with such a visible condition.
There is validation and acceptance when we find a connection with someone else. This is especially true of those who live with psoriasis. Other members of online communities can not only confirm certain symptoms but provide support to those who are struggling. Even if one less person feels alone, your story can make a difference.

Community Poll
How often do you experience brain fog?